Another week is gone, and now we come to our weekly premier league predictions. The time where I learn just how bad I am at predicting football, and worse, just how good Oliver is at it.
The gap between first, second, and third, continues to widen, with Oliver leading on 72, Alf following on 61, and myself in last on 53. Remember when it looked as if Alf would over take Oliver? Yeah, me neither.
On with the tipping!
Cardiff City vs Brighton
Dan
It's Cardiff. Let's be real here, Brighton aren't exactly great, but there's no way they'll fall to the woeful Bluebirds. 2-1 Brighton

Oliver
Cardiff City went down narrowly last week to Leicester City, but they've now got a perhaps weaker opponent in Brighton. The Seagulls went down to Everton last time out, and I think these sides are fairly evenly-matched. This is looking like a draw. 1-1 draw
Alf
It's getting too predictable that the Bluebirds are going to lose. Hopefully not a big one. 2-0 Brighton
Southampton vs Watford
Dan
Southampton are terrible, but Watford somehow managed to lose to Newcastle. Newcastle. Ugh, I don't know, let's go for a draw here. 0-0 draw
Oliver
I'd hate to be a Southampton fan right now. In sixteenth, with one win and just two points off last place. Watford lost last time out to bottom-placed Newcastle, however, and the Saints might just be good enough. Will Southampton finally get that second win? Nah. 1-0 Watford
Alf
Meh. 1-0 Southampton
Leicester vs Burnley
Dan
Burnley struggle away, and despite the helicopter crash, Leicester beat Cardiff. They'll get another three points here. 2-1 Leicester
Oliver
Leicester won their last match. Burnley have just a point from their last four games. With home advantage, the Foxes should capitalise on a weak Clarets side, but I think they'll struggle their way over the line. 2-1 Leicester
Alf
The Foxes are back to the King Power Stadium and will be hoping to seal a victory for Vichai. 2-1 Leicester
Huddersfield vs West Ham
Dan
Like Newcastle, Huddersfield finally got their first win against Fulham last week. Though West Ham are a much better side, my gut is telling me that this is a match that Huddersfield can just, just, edge out. 1-0 Huddersfield
Oliver
Neither of these teams are great, it's fair to say. Both of them are coming off wins, and West Ham are up in thirteenth in the table. Should be enough for them to overpower a weak Huddersfield. 1-0 West Ham
Alf
Provided the form of the home side, it'll be of no surprise if the visitors get the three points. 3-1 West Ham
Newcastle vs Bournemouth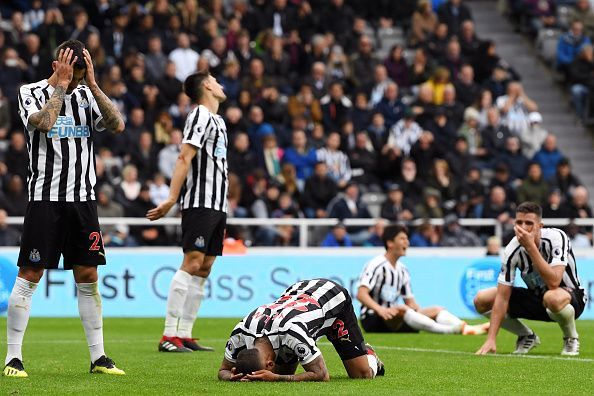 Dan
As much as Newcastle loves doing exactly what I don't tip, Bournemouth are a very dangerous side that were unlucky to lose to Manchester United last week. But, it's Newcastle I'm tipping, so naturally they'll prove me wrong. 2-1 Bournemouth
Oliver
Eddie Howe's just very deservedly won Premier League Manager of the Month, and Bournemouth have been playing good football. Newcastle have one win – no prizes for calling this one. 2-1 Bournemouth
Alf
Sour cherries for the magpies. (Editors note: Jesus Christ, Alf, that is awful) 2-1 Bournemouth

Crystal Palace vs Tottenham
Dan
Palace continue to underwhelm, and Tottenham are a side that will punish them for it. 2-0 Tottenham
Oliver
Palace are one of the most boring teams in the Premier League. I'm not just saying that – there's been just twenty-four goals in their PL games this season, less than any other team apart from Wolves. Spurs have got enough to win this one, but their opponents will keep the score low. 1-0 Tottenham
Alf
Tottenham may not be impressive against PSV but it's Palace, so it should be okay for them. 3-1 Tottenham
Liverpool vs Fulham
Dan
Ok, so Liverpool may have lost to Red Star Belgrade, but that was their back ups. I'd be very surprised if Fulham shocked them again at Anfield, but I won't be complaining if that happens either. Still, Liverpool are gonna win. 3-1 Liverpool
Oliver
Fulham can't stop giving away goals and points, as the last-placed team and having conceded 29 so far. Liverpool aren't scoring as many as Chelsea or City but they're still netting enough to win this big. 4-0 Liverpool
Alf
Well done, Red Star Belgrade, for achieving the impossible and giving the Fulham team false hope. 1-0 Liverpool
Chelsea vs Everton
Dan
Maruzio Sarri's side is now the only team unbeaten in all five of Europe's top leagues in all competitions, and while Everton can beat anyone on their day, they can't beat Chelsea. 2-1 Chelsea

Oliver
I don't like picking my own team to lose, but that's unfortunately what I see coming. Sarri-ball is 1) the most overused phrase in English football and 2) working wonders. Don't see that stopping. 2-1 Chelsea
Alf
I'm sorry, Oliver. 3-0 Chelsea
Manchester City vs Manchester United
We have a full scale preview for this match!
Arsenal vs Wolves
Dan
Since their draw against Palace, Arsenal have fallen out of form, drawing twice, with a solitary win coming against against Blackpool in the League Cup. Wolves are very, very, solid team, despite their own poor run of form, and I think they'll give Emery and he Gooners a shock.  2-1 Wolves
Oliver
Wolves keep scores low. 11 scored, 12 conceded. That won't stop Arsenal from winning, it'll just reduce the scoreline by a little. But the Gunners should wrap this up easily. 2-0 Arsenal
Alf
Arsenal just played Sporting Lisbon and finished in a goalless draw. Things aren't looking good for them. 0-0 draw
https://www.90min.com/posts/6217905-southampton-vs-watford-preview-how-to-watch-live-stream-kick-off-time-team-news?utm_source=RSS
https://www.sportskeeda.com/football/premier-league-2018-19-newcastle-united-vs-chelsea-fc-game-review-ss
https://www.telegraph.co.uk/football/2018/11/04/granit-xhakas-transformation-unai-emery-arsenal-game-changer/