After years of wait, David Beckham has finally announced the name and logo of his MLS club. The Miami-based side will take the name Club Internacional de Futbol Miami, or Inter Miami for people who just can't be bothered with all that nonsense.
We're finally getting closer to the club's launch after a saga lasting since 2013, and Inter Miami are poised to enter the league in 2020. By then, FC Cincinnati will already have been promoted from the United Soccer League, the second tier of football in the United States. Miami will join Major League Soccer alongside a team from Nashville, Tennessee, which is yet to be named.
Beckham's side are developing well, but there's still progress to be made. Their stadium location is not yet finalised with Beckham wanting to build a 25,000-seater stadium on the waterfront. There are also proposals to build either near Miami International Airport or in Overtown, in the north of the city. Miami Fusion, who played in MLS from 1998 to 2001, had their home games at Lockhart Stadium in Fort Lauderdale, however this only seats 17,000. Of course there are other grounds available in the city, such as the Miami Dolphins' Hard Rock Stadium, but two gridiron teams already play there.
The side had been called many names throughout the past few years. Beckham's ownership group commonly referred to them as Miami Vice or Miami Current, and the project in general was known as Miami Beckham United. Inter Miami will not be the first side in MLS to use a Spanish-influenced name. That honour goes to Real Salt Lake from Utah and Chivas USA based in Los Angeles, who each joined the league in 2005, although Chivas no longer exists.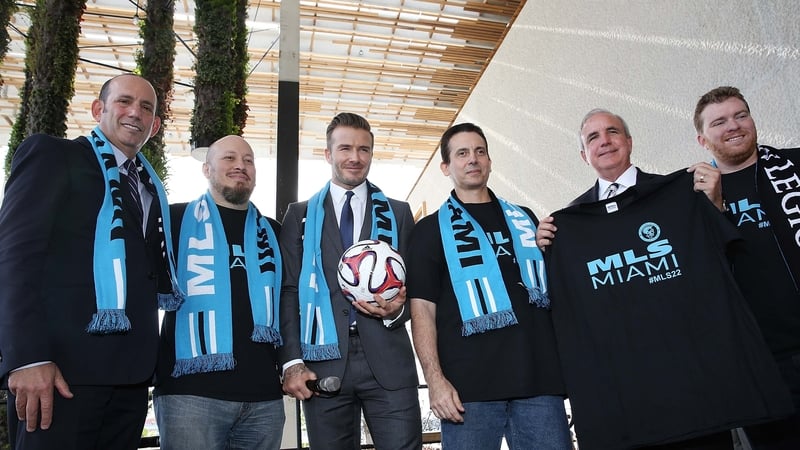 The club's colours will be black, white and pink, with a fairly similar shade of pink to Italian side Citta di Palermo. Beckham has said of the logo that he was inspired by typical South American club logos. Clearly they've paid attention to detail – the sun in the middle of the crest has seven rays, a homage to Beckham's iconic No. 7 jersey.
When the club join the league in 2020, provided everything goes to plan, there will be 26 clubs in MLS from seventeen states plus D.C. and three provinces of Canada. Expansion is expected to continue further, with the league aiming to reach 28 teams eventually. These extra teams would likely be in Detroit, Sacramento or San Diego.
Image credit:                                                                                                                                          http://worldsoccertalk.com/wp-content/uploads/2018/01/miami-mls-stadium-overtown.png https://img.rasset.ie/000f4d81-800.jpg                                            https://footyfans.org/files/2018/09/internacionalmiami-1-300×225.png